| | |
| --- | --- |
| Posted on October 24, 2020 at 6:30 PM | |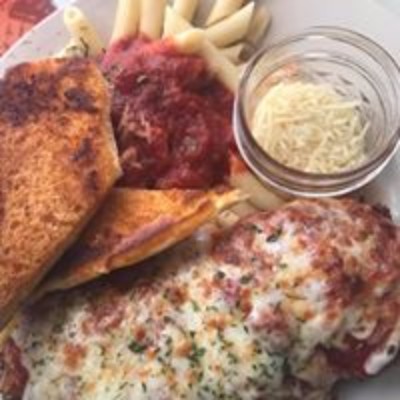 $10.99 chicken or eggplant parm or turkey dinners
| | |
| --- | --- |
| Posted on May 29, 2019 at 10:25 AM | |
Our trivia night is definitely a great night out. Not only do we have 4 rounds so you can join in late or leave early...there are prizes each round. The prizes are any where from beers,  bottle of wine, food certificates, a liquid dessert, to local band concert tickets like The Rusted Root.
Another fun side note about our trivia is that we allow the customer to host trivia night as well. It allows you to finally be the question master and enjoy watching people loving your categories and questions. It brings new life to the game!
So come on out some Thursday night to Nostalgia and give our trivia a try! Great fun group of people. Single? Nostalgia is an awesome place to go if single because everyone there is so warm and inviting. Doesn't make you feel like your getting "picked up". We always introduce people so you can make new friends and know that the next time you come you will be doing the introducing.
| | |
| --- | --- |
| Posted on January 17, 2019 at 12:05 AM | |
Pointing out some great deals people are not taking advantage of, so here is a SHOUT OUT.
First: We have started lunches again on Thursdays and Fridays in addition to our weekend lunches. To promote the lunches we offer buy one lunch entree and get the second lunch at HALF PRICE. Come in for seven lunches and get your next lunch for FREE.
Second: We offer a "Bring your friend", mention you saw the ad, and get your first drink for FREE for bringing your friend any time any day.
Third: Mention you saw on line a FREE game of pool when you purchase an adult beverage. One per person per visit. 
Fourth: Mention you saw an ad for that a dozen steamers are $5, max 2 dozen a visit.
Fifth: Mention you saw the ad and get a bloody Mary for $4 max 1 per person per visit.
Sixth: Come to our Sunday Brunch, purchase an entree and get a complimentary adult beverage for FREE!
Nostalgia is a great relaxing place to be. Hanging out with a game of chess, checkers, poker, darts, pool, backgammon, corn hole and more. Great selection of drafts, cans and bottled, and wine. As for our liquor we choose to cary an eclectic variety of different in the area so we have a great cocktail menu. Cocktail Hour is daily from 4-6pm with $5 across the board. $5 draft beer, $5 house wine, $5 well cocktail, $5 apps. 
If you are out alone never fear as we always make you feel at home in conversation or with the games. Nostalgia is like the old "Cheers" where everybody knows your name.
| | |
| --- | --- |
| Posted on October 6, 2018 at 6:10 PM | |
| | |
| --- | --- |
| Posted on September 18, 2018 at 3:10 PM | |
10/13/2018 starting at 11:am to whenever (food menu til 9am or it runs out)
People enjoyed the menu so much they were saying it was better than family's!
All day event enjoying all you can eat German menu for just $19 or include desserts $24. Delectable entrees of wiener schnitzel with veal, bratwurst/knockwurst, sauerbraten, and goulash.Sides to be warmed potato bacon salad, fries, and cucumber salad.
 
Desserts of German dark chocolate fudge brownie with black current cherries and lemon blueberry bread.
 
Special beers on tap will be the rare seasonal surprises.
Fire rings going on our pet frinedly patio. Beer Roulette and Tic Tac Toe and Left Right Center Dice Games.
Music with HARMONY ROCKS starting at 5pm!
| | |
| --- | --- |
| Posted on September 17, 2018 at 12:45 AM | |
Coming 10/20 8-11pm! Live music with great sounds and energy from some young bloods.
| | |
| --- | --- |
| Posted on September 15, 2018 at 12:50 AM | |
Come check out your local not known about sports bar. We have 7 tv's available that will be showing the games with volume up on a game. Music can still be played on the porch. We also have poot tables and darts to play while you enjoy watching the games.
Sundays $5 apps and $3 domestics starting at 1pm and until close
Mondays $5 apps and $3 domestics starting at 7:30pm and until close.
Great food unlike some other sports bars so come give us a try and see you will love it!
| | |
| --- | --- |
| Posted on April 12, 2018 at 10:05 AM | |
Bring your favorite song, grab the mic, and be a rockstar! We all have a blast on Friday nights, chef and waitstaff grabbing the mic too. 
| | |
| --- | --- |
| Posted on January 29, 2018 at 9:10 PM | |
| | |
| --- | --- |
| Posted on April 5, 2017 at 9:15 PM | |
St. Patrick's Day was a huge success for Nostalgia. The Meehan Road Band played, great sound, and the beers and food flowing to an amazing crowd of people. 
Look out next year!!